Domaine Thomas Morey, Chassagne Montrachet
The Morey's have been in Chassagne since the mid 1600's and are one of the most respected in the region. Thomas worked alongside his father (the great Bernard Morey) and in 2007 Thomas and his brother Vincent divided the family Domaine. Thomas now has 8ha (all organically farmed) producing 8 Chassagne Premier Crus, a Premier Cru Puligny (the rare La Truffiere) and a Batard Montrachet along with various Saint Aubin's and a generic Bourgogne Chardonnay. Regrettably, all are produced in highly limited quantities.
The resulting wines combine classic richness and depth, yet remain balanced with good acidity and minerality. Thomas comes with such a reputation that Aubert de Villaine hired him to look after DRC's Le Montrachet! In terms of the differences in the vintages, it is always hard to generalise, but in overview the 2017's are charming, fruit-driven and balanced, whilst the 18's are a little fuller and denser with riper fruits. These wines of Thomas Morey are unbelievably rare in large formats and will be a great addition to all aficionados of top White Burgundy.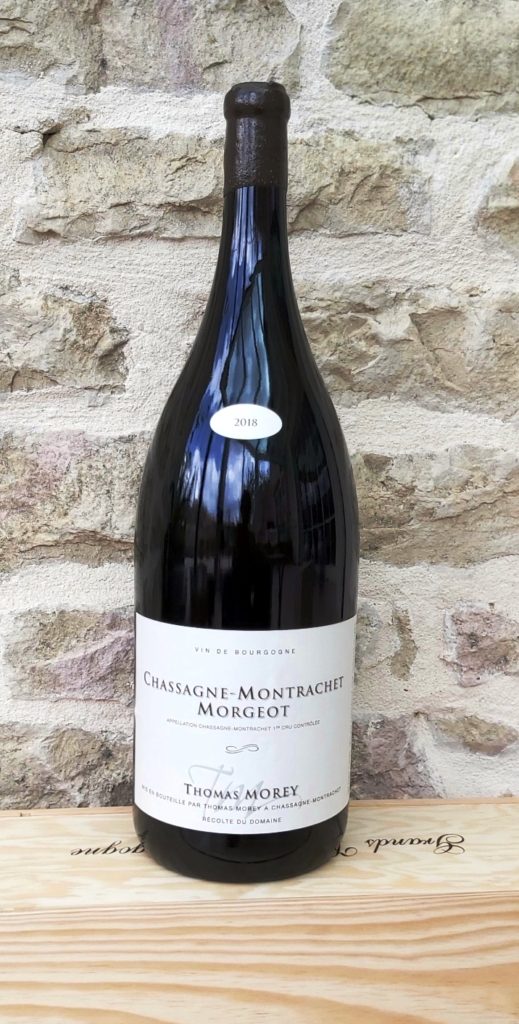 | | | | | | |
| --- | --- | --- | --- | --- | --- |
| 2018 | Bourgogne Chardonnay | 75cl Btls | € 108.00 | Cs/6 btls | 8 cs available |
| 2018 | Chassagne Montrachet 1er Cru Les Dents de Chien | 75cl Btls | € 480.00 | Cs/6 btls | 2 cs available |
| 2017 | Chassagne Montrachet 1er Cru Vide Bourse | 3L Jero | € 390.00 | Each | 1 available |
| 2018 | Chassagne Montrachet 1er Cru Vide Bourse | 1.5L Mags | € 525.00 | Cs/3 Mags | 1 cs available |
| 2018 | Chassagne Montrachet 1er Cru Vide Bourse | 3L Jero | € 390.00 | Each | 1 available |
| 2017 | Chassagne Montrachet 1er Cru Les Chenevottes | 3L Jero | € 280.00 | Each | 1 available |
| 2018 | Chassagne Montrachet 1er Cru Les Chenevottes | 75cl Btls | € 300.00 | Cs/6 btls | 5 cs available |
| 2018 | Chassagne Montrachet 1er Cru Les Chenevottes | 1.5L Mags | € 330.00 | Cs/3 Mags | 3 cs available |
| 2018 | Chassagne Montrachet 1er Cru Les Chenevottes | 3L Jero | € 280.00 | Each | 1 available |
| 2018 | Chassagne Montrachet 1er Cru Les Macherelles | 75cl Btls | € 300.00 | Cs/6 btls | 4 cs available |
| 2018 | Chassagne Montrachet 1er Cru Les Macherelles | 1.5L Mags | € 330.00 | Cs/3 Mags | 1 cs available |
| 2017 | Chassagne Montrachet 1er Cru Les Embrazees | 3L Jero | € 280.00 | Each | 1 available |
| 2018 | Chassagne Montrachet 1er Cru Les Embrazees | 1.5L Mags | € 330.00 | Cs/3 Mags | 2 cs available |
| 2017 | Chassagne Montrachet 1er Cru Les Baudines | 3L Jero | € 280.00 | Each | 1 available |
| 2017 | Chassagne Montrachet 1er Cru Morgeot | 3L Jero | € 280.00 | Each | 1 available |
| 2018 | Chassagne Montrachet 1er Cru Morgeot | 1.5L Mags | € 330.00 | Cs/3 Mags | 3 cs available |
| 2018 | Chassagne Montrachet 1er Cru Morgeot | 3L Jero | € 280.00 | Each | 1 available |
| 2018 | Chassagne Montrachet 1er Cru Morgeot | 6L Methus | € 675.00 | Each | 1 available |
| 2017 | Batard Montrachet | 3L Jero | € 990.00 | Each | 1 available |
| 2018 | Batard Montrachet | 75cl Btls | € 1,260.00 | Cs/6 btls | 3 cs available |
| 2018 | Batard Montrachet | 3L Jero | € 990.00 | Each | 1 available |
| 2017 | Puligny Montrachet 1er Cru La Truffiere | 3L Jero | € 390.00 | Each | 1 available |
| 2018 | Puligny Montrachet 1er Cru La Truffiere | 1.5L Mags | € 510.00 | Cs/3 Mags | 1 cs available |